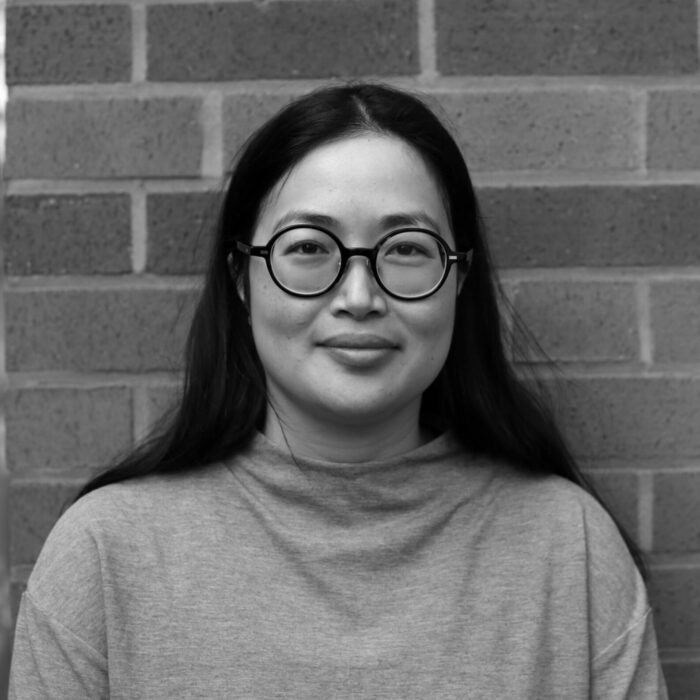 Raum: UNI 105, 3/29
Telefon: +49 (0) 234/32-27046
E-Mail: ying.pek@ruhr-uni-bochum.de
Projekt
Schooling Vision in Postwar Germany (AT)
Projektbeschreibung
[folgt]
---
Wissenschaftlicher Werdegang
Seit 3/2023 | Postdoc am Graduiertenkolleg "Das Dokumentarische. Exzess und Entzug", Ruhr-Universität Bochum
09/2022 | PhD, Princeton University, Department of Art & Archaeology. PhD Dissertation: "Reality Expanded: The Work of Hito Steyerl, 1998-2015"
10/2017–08/2019 | Gastforscherin am Graduiertenkolleg "Kulturen der Kritik", Leuphana Universität Lüneburg
09/2016–05/2017 | Helena Rubinstein Fellow, Critical Studies track, Whitney Museum of American Art Independent Study Program, New York
2016 | MA, Princeton University, Department of Art & Archaeology
10/2012–09/2013 | MA, University College London, Department of History of Art
09/2007–05/2011 | BA, Yale University, New Haven. Major: art history
Publikationen (Auswahl)
Journals and Edited Volumes
"Through the Digital Looking Glass," in Why Art Criticism?: A Reader, eds. Beate Söntgen and Julia Voss (Berlin: Hatje Cantz, 2022): 357–358.
"Screens, Layers, Algorithms: A Conversation with Ho Tzu Nyen," Rosa Mercedes 4 (May 2022). https://www.harun-farocki-institut.org/en/2022/05/13/screens-layers-algorithms-a-conversation-with-ho-tzu-nyen/.
"'Posthuman Documentary'?: Speculation and Critique in Hito Steyerl's Factory of the Sun" in Critique and the Digital, eds. Erich Hörl, Nelly Y. Pinkrah, and Lotte Warnsholdt(Berlin: Diaphanes, 2021): 185–204.
"Design, Abstraction, and Photographic Art: Max Weber at the White School, 1914-1918," in Clarence H. White and His World: The Art and Craft of Photography, 1895-1925, ed. Anne McCauley (Princeton: Princeton University Press, 2017): 287–298.
Encyclopedia Entries
"Hito Steyerl," Oxford Grove Art Online, 2017.
Book and Exhibition Reviews
"Review of Ho Tzu Nyen, 'The Critical Dictionary of Southeast Asia,' 2017–ongoing," in "No Template: Art and the Technologies of Race." Media-N: Journal of the New Media Caucus, 18 (1), Spring 2022: 157–160. DOI: https://doi.org/10.21900/j.median.v18i1.865.
Review of Girl Head: Feminism and Film Materiality, by Genevieve Yue, Konturen: Interdisciplinary Journal for German Cultural Analysis 12 (2022): 128–133. http://journals.oregondigital.org/index.php/konturen/article/view/4918/5038
Review of Toward Fewer Images: The Work of Alexander Kluge, by Philipp Ekardt, The Germanic Review: Literature, Culture, Theory, 94 (3), 2019: 264–267. DOI: 10.1080/00168890.2019.1627711.
Vorträge (Auswahl)
July 2022 | Studientage für Fotografie 2022: "Medienbeziehungen der Fotografie," Bildarchiv Foto Marburg, Philipps-Universität Marburg | Project presentation: "Reality Expanded: The Work of Hito Steyerl"
May 2021 | College Art Association (CAA) Annual Conference 2021, conference panel "Techno-Politics and Art in the 1990s: Film, Video, Image" | Paper title: "'Traveling Images': Hito Steyerl and the 1990s Documentary Turn
November 2019 | Program in Media and Modernity Doctoral Colloquium, Princeton University
Paper title: "Duration, Discursivity, and Experience: Moving Image Works at the Global Art Exhibition"
Lehrtätigkeit (Auswahl)
Winter 2022/23 | "Berlin Global: Toward the Contemporary Art of Postmigration", Humboldt-Universität zu Berlin
Winter 2022/23 | "Approaches to Global Contemporary Art", Leuphana Universität Lüneburg